By Scott Spangler on June 16th, 2014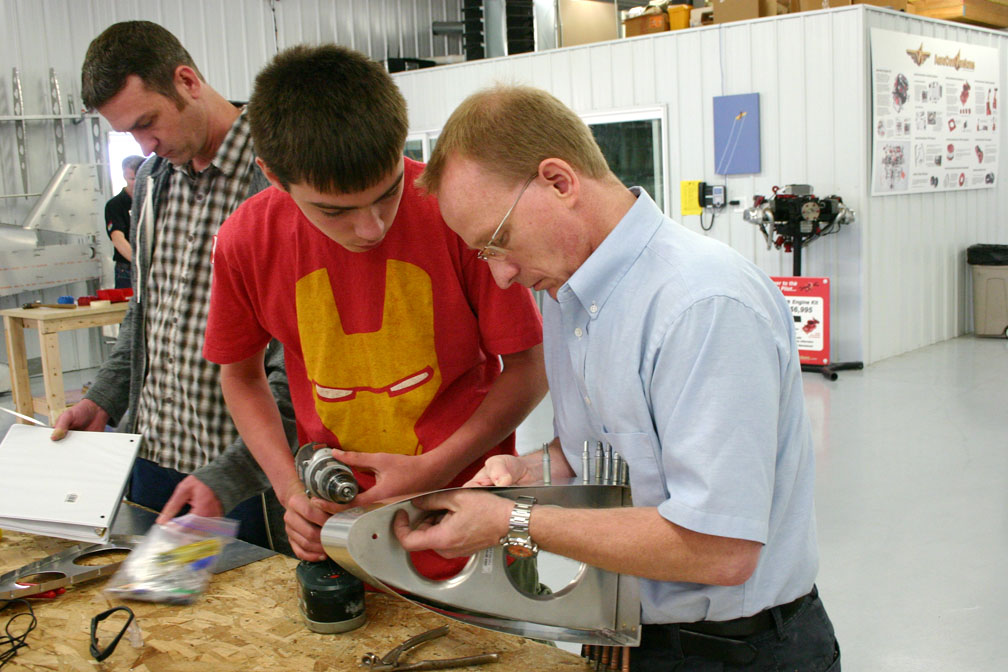 At American airports these days is hard to find a good word from pilots about their aviation future. After covering the 57th Sonex Aircraft Builder's Workshop at the company's Oshkosh, Wisconsin, hangars it seems clear I've been looking in all the wrong places and talking to the wrong people.
From as far away at Guam, the Netherlands, and the four compass quadrants of America, 21 people attended the workshop, and 14 of them brought guests—wives, sons, brothers, and building buddies—who attend the workshop free of charge and learn metal working by building an abbreviated metal wing section.
Most were first-time builders. Some already had Sonex kits at home, awaiting the courage the new workshop skills would give them to open the boxes. Others were still deciding on the model that best met their needs, and their future flights guided their decision making.
Most remarkable is that not once did I hear a work-shopper complain about anything aviation related. And all of them, except for one who was a student in training, were pilots. The closest one of them came was criticism of his own work; "I can do better,'' he said.
Can't we all.
What united this group was its outlook, and the Sonex folks who've conducted the previous 56 workshops say this crowd was typical. It was positive and rooted in reality. Rather than complain about how expensive things have become since the "old days" they appreciated the affordability of a do-it-yourself kit airplane and engine.
One told me that investing the time to learn the necessary skills and then to build an airplane and AeroVee engine, a VW conversion that sips 4 gph, is a gift that keeps giving. As the builder, he would perform all of his own maintenance, inspections, and engine overhauls. "Can you believe that the parts for a top overhaul are just $50!"
The happiest work-shopper was a tall man from Texas. He didn't look near old enough to be an instrument rated commercial multiengine pilot who hadn't flown in 20 years, but that was the honest to God truth, he assured me. He arrived the day before the workshop began to start knocking the rust off his stick-and-rudder skills in Sonex's T-Flight transition training program. He couldn't find the words to equal his emotions.
Without a doubt, some who read this will criticize it because it does nothing for the challenges that face their favorite aviation niche. If you want sympathy, look it up in the dictionary.
These pilots, from the brothers who are retired airline pilots to the young air ambulance pilot in northern Montana and the active duty Army physical therapist who flies for fun, all understand that flying today is an expensive activity. But rather than complaining about it and pining for an era that will never return, they are staying positive and building their future in aviation. We should all take their example to heart because their positive outlook is infectious. – Scott Spangler, Editor
Related Posts: