By Scott Spangler on December 17th, 2018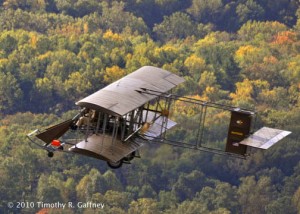 Happy Kitty Hawk Day! And can you think of a better way of celebrating the 115th birthday of powered flight than supporting the good people who are trying to build (with modern materials and components) a Wright B Flyer at its hangar and museum at the Dayton-Wright Brothers Airport near Dayton, Ohio.
Those people united in Dayton as the all-volunteer, nonprofit Wright B Flyer Inc. when they built the first flyable lookalike Model B Flyer  in 1975. Absent any drawings, they copied the Model B in the National Museum of the United States Air Force, employing modern engineering, components, and materials to meet the current airworthiness standards and requirements. Unlike the original Model B, the lookalike, known as Brown Bird, has a robust steel skeleton, a control wheel instead of levers, ailerons instead of wing warping, and a modern aircraft powerplant.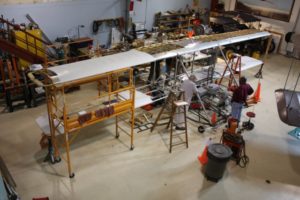 There are many ways to support this effort. You can volunteer your time and efforts and expertise. You can make a financial or in-kind (tax deductible) donation. You can undertake a fundraising effort. And you can become a member of the organization. Members at the Aviator level donate $25 a year; Honorary Aviator's donate $100 (which qualifies them for an orientation flight in Brown Bird); and Life members donate $200, which include the orientation flight and lifetime Aviator benefits, membership card, a quarterly newsletter, and attendance at the annual membership dinner.
Construction of the new Model B Flyer is almost complete, and the group was hoping to make its ground tests by the end of this year, if Mother Nature cooperates. If all goes well, the first flight will take place in the spring, maybe May, and after the subsequent flight testing, it should make its first public appearance at the Vectren Dayton Airshow in June 2019.
Like Brown Bird, the new Model B Flyer will exist to to raise and sustain public awareness of powered-flight's roots planted by the brothers Wright in Dayton. This is an international effort, and to make overseas demonstrations more practical, the new lookalike Flyer B will be easier to ship to distant locations and operate with a small support crew.
The lookalike Flyer Bs are inspiring and important on several levels. Because they look little like what most people see in their mind's eye when they think "airplane," the Flyers encourage the curious to take a second look and, perhaps, ask a question or two. And for those of us already infected with powered flight, the Flyers are a reminder of human ingenuity and motivation to apply it as we pursue solutions to our present and future challenges. – Scott Spangler, Editor
Related Posts: