By Scott Spangler on April 1st, 2013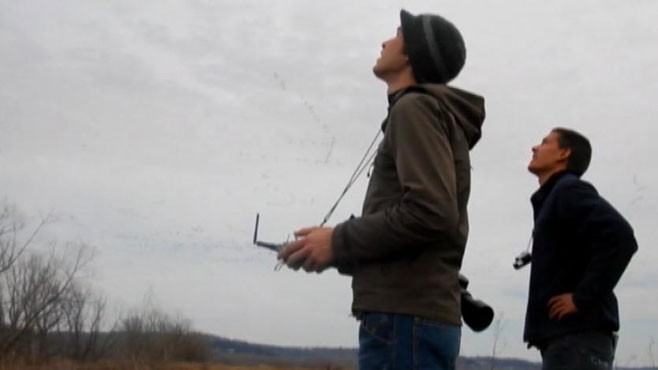 Not long ago, the periodic newsgram from my alma mater reported the birth of a new course at the University of Missouri School of Journalism, Science Investigative Reporting/Drone Journalism. The nation's first J school, now more than a century old, has always been forward thinking, so it didn't surprise me that the course was part of the University of Missouri Drone Program, a collaboration between the J school, MU's information technology program and its Drone Lab, and the College of Agriculture, Food, and Natural Resources.
Being J-schoolers, three seniors in the program launched a blog, The Missouri Drone Journalism Program. It tracks their progress in the class taught by Bill Allen, an assistant professor of science journalism. The three bloggers, Jaime Cooke, Zach Garcia, and Robert Partyka, write about more than learning to fly the camera-equipped J-bot drones. This is the Missouri J School, which means students learn not only how, but why and what's legal when and where.
While the FAA is figuring out its drone regs, the J-schoolers are finding a number of stories in rural areas where they can fly with few restrictions. For example, a J-bot provided a unique perspective on an upcoming prescribed burn at the nearby Prairie Fork Conservation Area. Without the J-bots, which are equipped with GoPro or iPhone cameras, the alternative is to rent a plane or helicopter or, most likely given the economics, do without.
What makes this blog interesting is the ability to watch the development of aspects of drone journalism. And it's not just happening at Missouri. It's global, and the Drone Journalism Lab seems to be the online clearing site for sharing information. Certainly it's exciting times for the students at Missouri, much more than when I was a student there from 1980-82, pounding out copy on a manual typewriter and not looking forward to waiting in line to enter it on one of the four newsroom video display terminals and reading about these things called PCs. –Scott Spangler, Editor
Related Posts: