By Scott Spangler on February 13th, 2017
Exploring the Smithsonian Air & Space Museum's Udvar-Hazy Center, I saw this blood red P-51C hanging from the ceiling, and I immediately knew that this plane had to be Paul Mantz's Bendix air racer that finished first in 1946, and again in 1947.
Getting close enough to read the name under the cockpit, I wondered who Capt. Charles F. Blair might have been? And what was the link to  Pan American World Airways? The white letters on the long cowling said this was the Excalibur III and not Mantz's revolutionary racer.
Little did I know of this plane's record-setting flights and its contribution to the Cold War fears of bombers and missiles loaded with Soviet nukes making their way to America via the North Pole.
But it had to be Mantz's racer. The make, model, and color all agreed with my memory of the plane. It filled a fair number of pages in Hollywood Pilot, the book about Mantz's life. (I read it in junior high school and must have unconsciously etched parts of it to memory. If Mantz's name is familiar to you, it's because he was Amelia Earhart's aviation adviser, in addition to being the top movie pilot, until he lost his life in the Flight of the Phoenix.)
The Bendix Air Race ran from the West Coast to the National Air Races in Cleveland, Ohio. Mantz figured the easiest way to win was to fly the fastest plane available and eliminate fuel stops. Of all the Mustangs, the P-51C was the fastest, so he bought one surplus after World War II. It is easy to identify: it has the razorback cockpit of the P-51B and a fillet that precedes the vertical stabilizer that improved the airplane's lateral stability, a real necessity on the bubble-canopied P-51D.
To eliminate fuel stops, Mantz removed the Mustang's 90-gallon self-sealing fuel tanks and sealed the wings. This is where I learned about wet-wing fuel tanks; the modified Mustang would carry 863 gallons of fuel, more than doubling its range.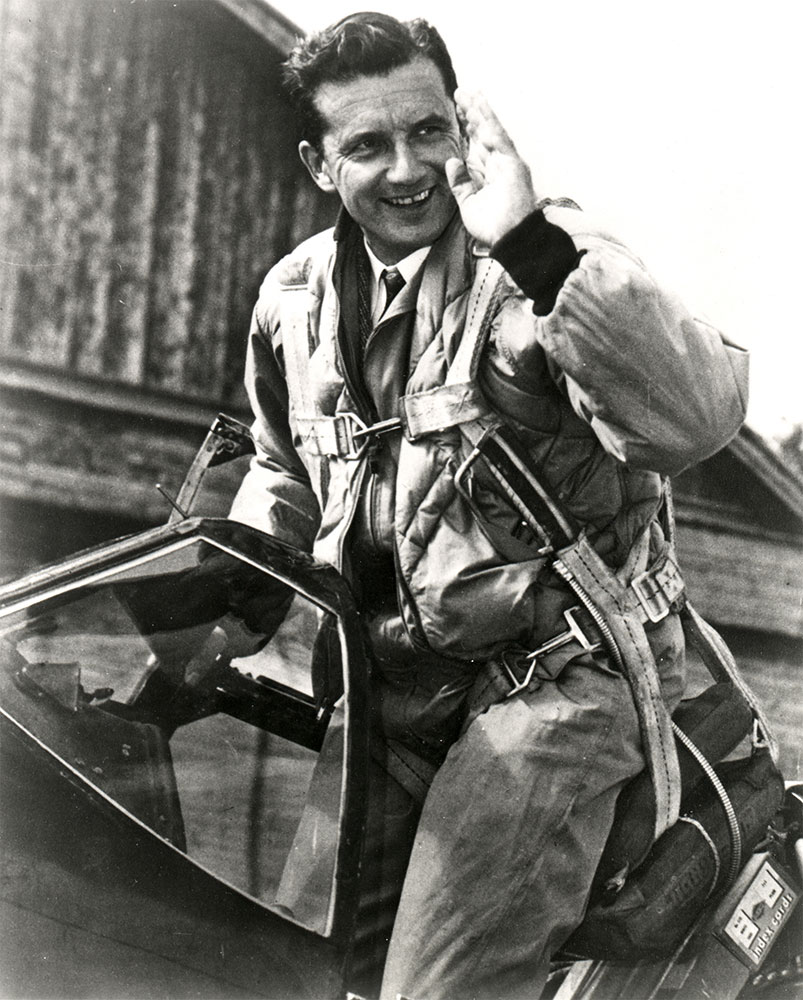 But who was Capt. Blair, and why was Excalibur III hanging in the Udvar-Hazy Center? The Smithsonian does not display insignificant aircraft. The plaque didn't give a lot of info, so I made a note to research it when I had time. With Mother Nature being a winter witch, I now have the time.
Blair started flying with the U.S. Navy in 1932, served as a transport pilot during the war, made captain, then jumped to the Air Force Reserve as a bird colonel in 1952, and flew for United, American Overseas Airlines, and then Pan Am. He was married to actress Maureen O'Hara, whom he met on a trans-Atlantic flight, and he retired as an Air Force brigadier general. He died in September 1978. And I'd never heard of him, despite decades as a resident rat in the aviation sections of libraries and used bookstores. It was nice to finally meet him, as it were.
With a hankering to set a record for a solo circumnavigation of the globe, Blair bought Mantz's P-51C after the 1949 Bendix race (it finished third, with Herman "Fish" Salmon at the controls). Aside from his Bendix victories, Mantz set coast-to-coast speed records—in each direction—in the plane he called Blaze of Noon.
Blair renamed it Excalibur III, after the Excalibur flying boat he flew for American Export Airlines. And he changed his record-setting plans, because flying a former military airplane around the world (and across international borders) during the Korean War, which started in 1950,  didn't seem like a good idea.
So, on January 31, 1951, he flew the Mustang from New York to London in 7 hours, 48 minutes, lopping 1 hour, 7 minutes off the existing record. (Flying at 37,000 feet, he averaged 450 mph, and I think that record still stands for this class of airplane.) That flight warmed up the pilot and his airplane for a more notable record.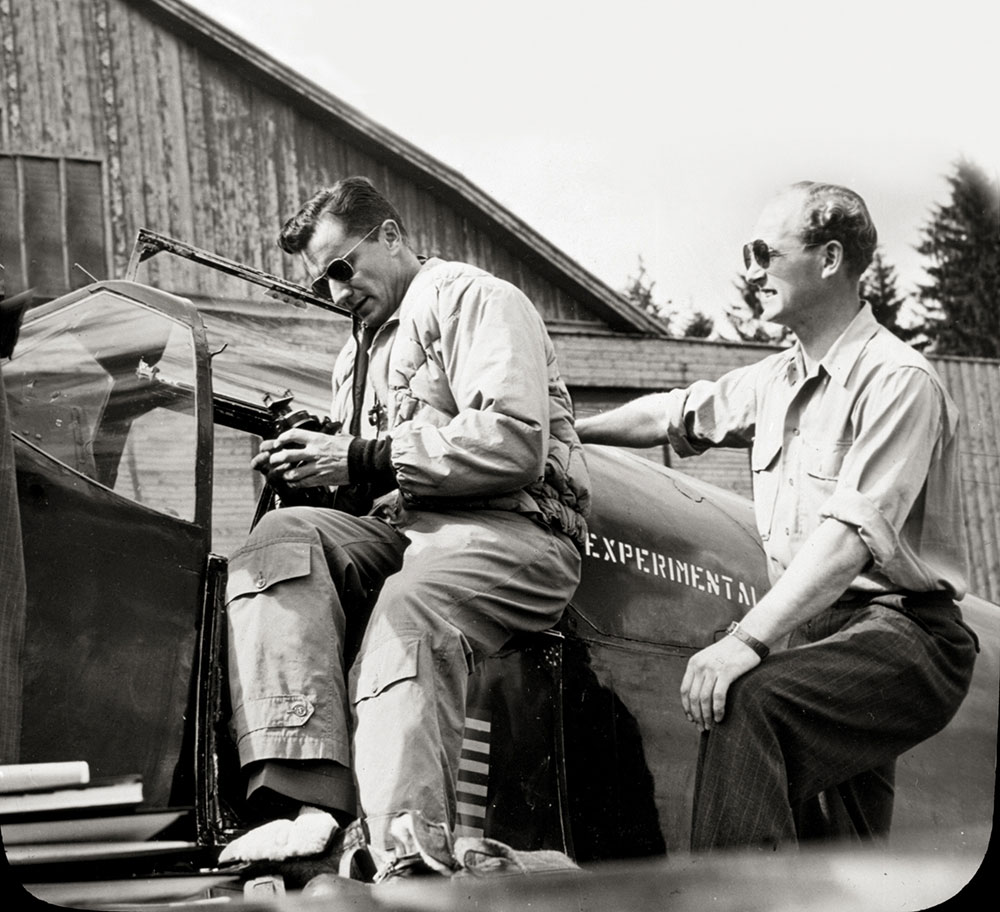 It seems Blair had developed a method of navigating around the arctic circle, where compasses are typically useless, by plotting sun lines at predetermined times and locations. To prove the reliability of his method, on May 29, 1951, he flew the Excalibur III over the North Pole, from Bardufoss, Norway, to Fairbanks, Alaska. (In this NASM Photo, Blair checks his astrocompass shortly before commencing his North Pole flight.)
Blair financed and planned every step of the flight, which took 10 hours, 27 minutes, exactly as planned. Between Norway and Alaska there were no communications, navigation aids, or emergency landing fields. This flight changed U.S. defense planning because it proved that cold warriors could attack each other by taking the short way across the pole. It also carried the first international air mail across the North Pole. To get home, Blair set another record, nonstop from Fairbanks to New York in a relaxed 9.5 hours.
For the North Pole flight, President Harry Truman presented the Harmon International Trophy to Blair for "the most outstanding international achievements in the art and/or science of aeronautics for the previous year, with the art of flying receiving first consideration." –Scott Spangler, Editor
Related Posts: